MILESTONE MUSIC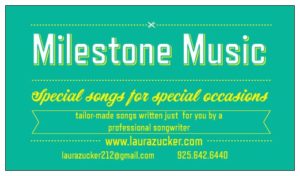 Welcome to Milestone Music, another side of Laura Zucker Music, where I create special songs for special occasions. Birthdays, anniversaries, weddings, you name it – I will create a tailor-made song written just for you; the song that you would have written if you had the time or ability.
THE BASE PACKAGE- I will meet with you in person, or by Skype/Facetime to learn all you want me to know about the person(s) we are writing the song for. We will also discuss genre, meter, mood. Want a waltz for that first father/daughter dance at her wedding? A rock out Tom Petty- style blast for his 50th birthday? Whatever the occasion, we can create the perfect song. The package includes:
Initial consultation (60-90 minutes)
Follow up consultation
A guitar or piano / vocals recording of YOUR PERFECT SONG  MP3 and burned onto a CD
Lyrics printed on linen paper, suitable for framing.
$1500.
Additional services are available if you'd like a more highly produced recording (adding bass, drums, fiddle, etc.). TBD
Live Performance of your song at your event also available TBD
MINIMUM LEAD TIME – 8 WEEKS.